Our ISO 9001:2015 Manager Training course introduces department managers and team leaders to ISO 9001 and teaches them how to gain the most from their role and responsibilities in the Quality Management System. We recommend managers take this course at the start of their ISO project in order to better understand their responsibilities and what's expected of them.
Featuring a clean, modern interface, the course lasts about 6 hours and includes plenty of real-life examples and useful tips. The course is indispensable for managers and team leaders wishing to get the most out of ISO and make it a success.
Manageemnt training is online and on-demand. It can be taken anytime and on any device. And in case of corporate purchases, an assigned manager can conveniently check up on learning progress using our online dashboard.
Learning Objectives
On completion of the course you will:
Course Content
The course is interactive and combines lectures, videos, and practical examples.
ISO 9001: The Basics
The first part teaches 9001 fundamentals such as how organizations use the standard, and what the standard means for you and your organization. The lessons conclude with a look at some of the factors that contribute to ISO 9001 success.
The Foundation and Structure of ISO 9001
This part introduces the seven quality management principles:
Next, the course discusses Annex SL, which is the new high-level structure for ISO management system standards. What this means, in a nutshell, is that a management system standard such as ISO 9001 can now be implemented fairly easily alongside other management system standards such as ISO 14001.
The Process Approach and PDCA Cycle
This part introduces the Process Approach and the Plan Do Act Cycle (PDCA). Topics include:
Overview of ISO 9001:2015 Requirements
This part looks at the pertinent ISO 9001 clauses, 4 thru 10, that staff involved in the implementation project will need to be familiar with.
The Role of Managers in ISO 9001
This final part explains the responsibilities of managers and team leaders in the context of an ISO 9001 Quality Management System. Topics covered include:
Who Should Take ISO 9001:2015 Manager Training?
This ISO 9001 course is ideal for:
Course Certificate
Graduates of this ISO 9001:2015 Manager Training course receive a Certificate of Attainment. The certificate serves as evidence of your newly acquired competencies.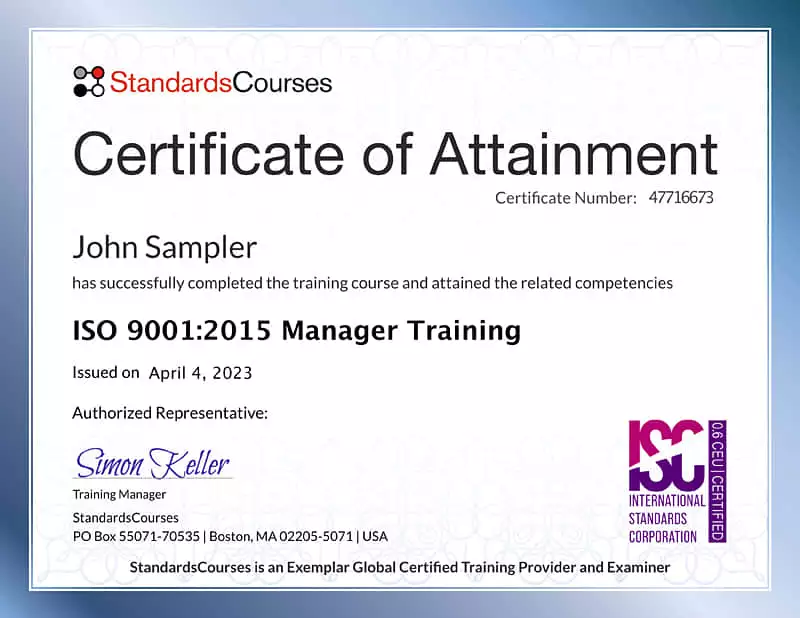 To receive a Certificate of Attainment, you need to pass the final exam. It's a multiple-choice assessment with a passing score of 70%. The exam can be re-taken unlimited times without charge. If you fail or forgo the exam, you'll still receive a Certificate of Attendance that provides evidence of training.