Become a Certified Lead Auditor – the most prestigious auditor qualification you can get. This ISO 9001:2015 Lead Auditor Certification Training gives you the official certification and skill set to set up and manage an audit program and conduct effective audits, either as a solo auditor or head of an audit team.
The online course starts by explaining the characteristics of an effective ISO 9001 system and the sort of operational processes you would typically expect to find. The course then explains all ISO requirements and the kind of evidence an auditor would look for when seeking to verify their correct implementation. Next, the course teaches auditing techniques and the various responsibilities of QMS auditors before focusing on setting up and managing an audit program and leading team audits.
Combining down-to-earth explanations with a clean, modern interface, this ISO 9001 course lasts about 32 hours and includes countless real-life examples and practical tips. It is as ideal for complete beginners as it is for auditors with prior experience.
The course includes the lead auditor examination and certification. Upon successful completion, graduates become Certified ISO 9001 Lead Auditors; they'll also have the option to seek registration with Exemplar Global.
Lead auditor training and examination are online and on-demand. Both can be taken anytime and on any device. And in case of corporate purchases, an assigned manager can conveniently follow up on learning progress using our online dashboard.
Objectives
On completion of the course you will:
Course Content
The online course is interactive and combines lectures, videos, and practical examples.
ISO 9001: The Basics
The first part teaches 9001 fundamentals such as how organizations use the standard, and what the standard means for you and your organization. The lessons conclude with a look at some of the factors that contribute to ISO 9001 success.
The Foundation and Structure of ISO 9001
This part introduces the seven quality management principles:
Next, the lead auditor course discusses Annex SL, which is the new high-level structure for ISO management system standards. What this means, in a nutshell, is that a management system standard such as ISO 9001 can now be implemented fairly easily alongside other management system standards such as ISO 14001.
The Process Approach and PDCA Cycle
This part introduces the Process Approach and the Plan Do Act Cycle (PDCA). Topics include:
ISO 9001:2015 Requirements
This part sheds light on all ISO 9001 requirements and their interpretation. The lessons look in detail at each and every requirement of the ISO 9001 standard and explain them from the auditor's point of view. Numerous examples and practical tips show the learner how to interpret the requirements for different companies and judge compliance.
ISO 9001:2015 Documentation
This part discusses documents and records.

A point to note here is that documents are used for storing and sharing information, while records are essentially hard copies of results (such as from an audit) or evidence of activities that have been performed. And while documents get revised from to time and are generally kept up-to-date, records are static and never revised.
Introduction to Internal Audits
This part introduces auditing techniques, including the fundamentals (audit methodologies), and the roles and responsibilities expected from a company's internal auditor.
Auditing
Audit proceedings and findings must be documented according to ISO's specific requirements. The reports you compile (which show nonconformities and the corrective actions taken to address them) must be retained as they will be reviewed during the certification audit and subsequent surveillance audits. Points covered in this module include:
Setting Up an Internal Audit Program
Managing and Leading Team Audits
Examination
The ISO 9001 training concludes with the official lead auditor examination. It's a multiple-choice assessment with a passing score of 70% and includes free re-takes. It consists of 141 questions and takes about 2 - 3 hours to complete.
Who Should Take ISO 9001:2015 Lead Auditor Certification Training?
This course is ideal for:
Exemplar Global Accreditation
StandardsCourses is an Exemplar Global Certified Training Provider and Examiner. What this means is that this training program meets the highest quality standards and the examination we administer for it has been audited to ensure it complies with contemporary assessment practices and meets the stringent international requirements set by Exemplar Global.
It also means that graduates of this professional training package receive an impressive Certificate of Attainment with the Exemplar Global accreditation mark. The certificate serves as evidence of ISO 9001 QMS training and – more importantly – provides documented proof of your newly acquired competencies.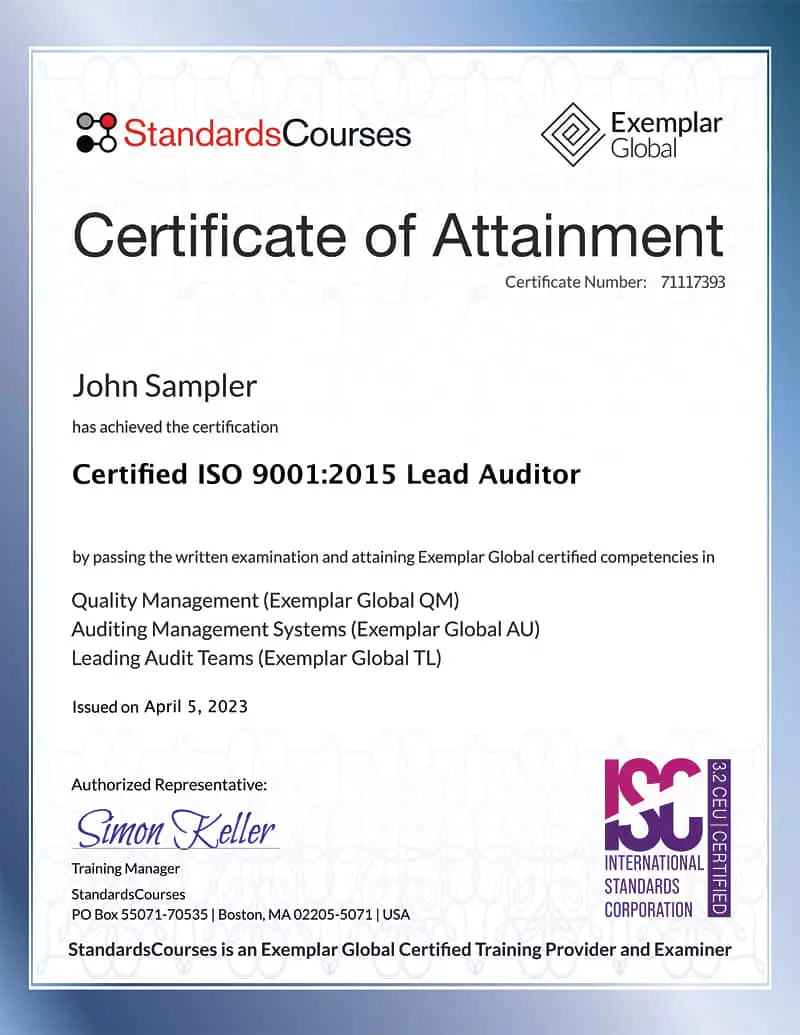 To receive the certificate you need to pass the examination. It's a multiple-choice assessment with a passing score of 70% and includes free re-takes.