Become a Certified ISO 9001 Implementer. Our ISO 9001:2015 Implementer Certification Training gives you both the official certification and the skill set to set up an ISO 9001 system and get certified. With its down-to-earth explanations and frank overview of the implementation process, the course is designed to ensure a seamless journey to ISO certification.
Featuring a clean, modern interface, the course lasts about 25 hours and includes a wealth of real-life examples and practical tips. The course is as ideal for complete beginners as it is for implementers with prior experience.
The course includes the implementer examination and certification. Upon successful completion, graduates become Certified ISO 9001 Implementers; they'll also have the option to seek registration with Exemplar Global.
Implementation training and examination are online and on-demand. Both can be taken anytime and on any device. And in case of corporate purchases, an assigned manager can conveniently follow up on learning progress using our online dashboard.
Objectives
On completion of the course you will:
Course Content
The online course is interactive and combines lectures, videos, and practical examples.
ISO 9001: The Basics
The first part teaches 9001 fundamentals such as how organizations use the standard, and what the standard means for you and your organization. The lessons conclude with a look at some of the factors that contribute to ISO 9001 success.
The Foundation and Structure of ISO 9001
This part introduces the seven quality management principles:
Next, the course discusses Annex SL, which is the new high-level structure for ISO management system standards. What this means, in a nutshell, is that a management system standard such as ISO 9001 can now be implemented fairly easily alongside other management system standards such as ISO 14001.
The Process Approach and PDCA Cycle
This part introduces the Process Approach and the Plan Do Act Cycle (PDCA). Topics include:
ISO 9001:2015 Requirements
This part sheds light on all ISO 9001 requirements and their interpretation. The lessons look in detail at each and every requirement of ISO 9001 and explain them from the implementer's point of view. Numerous examples and practical tips show the learner how to apply the requirements to the specific circumstances of their individual company.
Implementation Overview
This part introduces a popular five-step implementation methodology that's been proven to work and is accessible even to complete beginners. These five steps are expanded upon in the next module. The part ends with useful tips for getting the most out of ISO 9001.
ISO 9001 Implementation Steps
Next, the course takes a closer look at the five-step implementation methodology.
ISO 9001:2015 Documentation
The final part discusses documents and records.

A point to note here is that documents are used for storing and sharing information, while records are essentially hard copies of results (such as from an audit) or evidence of activities that have been performed. And while documents get revised from to time and are generally kept up-to-date, records are static and never revised.
Examination
The implementation training concludes with the official implementer examination. It's a multiple-choice assessment with a passing score of 70% and includes free re-takes. It consists of 91 questions and takes about 1 - 2 hours to complete.
Who Should Take ISO 9001:2015 Implementer Certification Training?
This course is ideal for:
Exemplar Global Accreditation
StandardsCourses is an Exemplar Global Certified Training Provider and Examiner. What this means is that this training program meets the highest quality standards and the examination we administer for it has been audited to ensure it complies with contemporary assessment practices and meets the stringent international requirements set by Exemplar Global.
It also means that graduates of this professional training package receive an impressive Certificate of Attainment with the Exemplar Global accreditation mark. The certificate serves as evidence of ISO 9001 QMS training and – more importantly – provides documented proof of your newly acquired competencies.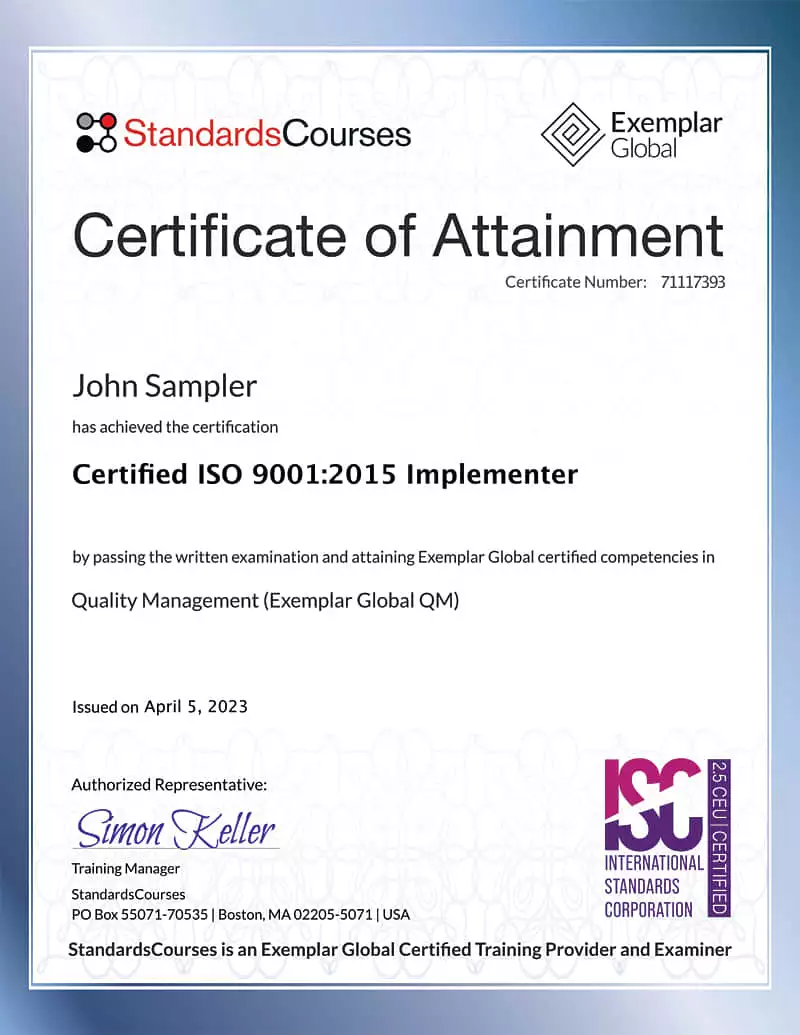 To receive the certificate you need to pass the examination. It's a multiple-choice assessment with a passing score of 70% and includes free re-takes.