This ISO 9001:2015 Employee Training course provides a brief overview of ISO 9001 and motivates employees to participate. It focuses on topics that are relevant to staff to ensure smooth implementation and successful certification.
The training is purposely brief (it lasts one hour) and includes numerous examples to which staff can easily relate. The multi-media course is entertaining and stimulates the interest of viewers – the perfect condition for getting staff on board your company's ISO 9001 project and creating buy-in. Released in mid 2023, this course incorporates the latest interpretations and best practices.
The training is online and on-demand. Employees can take the course independently anytime and on any device. An assigned manager can conveniently check up on learning progress using our online dashboard.
Learning Objectives
On completion of the course you will:
Course Content
The course is interactive and combines lectures, videos, and practical examples.
ISO 9001: The Basics
The first part teaches 9001 fundamentals such as how organizations use the standard, what the standard means for you and your organization, and the internal and external benefits that companies typically gain after implementing an ISO 9001 Quality Management System.
Implementation
This part of the course takes a look at steps required to set set up an ISO 9001 Quality Management System. These implementation steps can often impact heavily on the organization as it shifts towards leaner, more productive, and more efficient processes.
Your Role in the ISO 9001 System
All employees, regardless of their status, have a part to play in their company's Quality Management System. We'll show you how you will be impacted by ISO and what you can do to gain the most from it for yourself, your job and your organization.
Who Should Take ISO 9001:2015 Employee Training?
This online course is ideal for:
Course Certificate
Upon completion of this ISO 9001:2015 Employee Training course, each learner receives a Certificate of Completion that serves as evidence of training.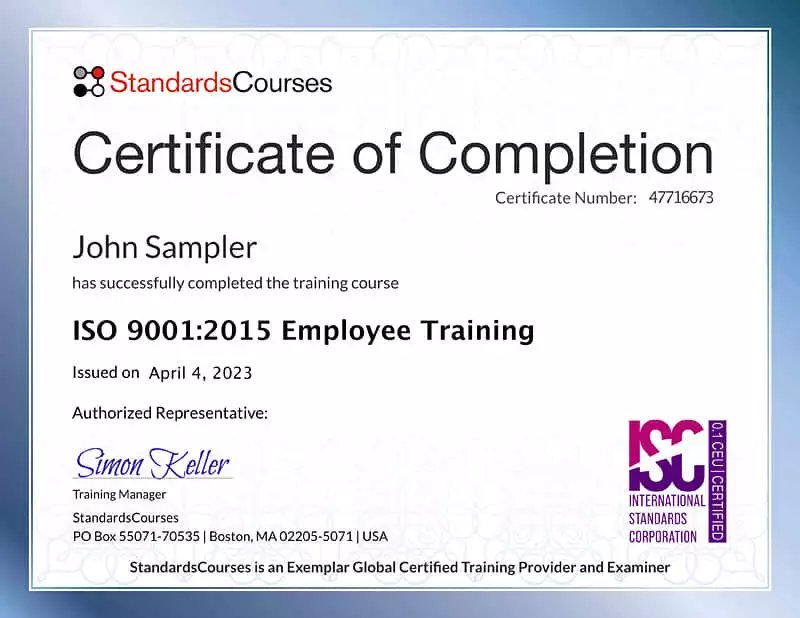 To receive a Certificate of Completion, you need to pass the short final exam. It's a multiple-choice assessment with a passing score of 70%. The exam takes only 5-10 minutes to complete and can be re-taken unlimited times without charge.