This ISO 45001:2018 Foundation Training course introduces learners to Occupational Health & Safety (OH&S) Management Systems and how they enable organizations to provide safe and healthy workplaces. The course is ideal for anyone whose company is planning to implement and maintain an OH&S Management System and get certified to ISO 45001:2018.
As well as giving learners a broad understanding of ISO 45001:2018 (and its requirements and benefits), the course teaches students what sort of documented information is needed, how to implement the standard and use the PDCA cycle as a tool for continuous improvement, and the steps needed to achieve certification.
The ISO 45001 introductory training is online and on-demand. It can be taken anytime and on any device.
Learning Objectives
On completion of the course you will:
Course Content
The online course is interactive and combines lectures, presentations, and practical examples. PDF handouts are provided, which learners are encouraged to retain and refer back to.
Overview of ISO 45001:2018
This first part introduces ISO 45001, explaining what it is, how it's used, and the purpose and benefits of an OH&S Management System.
ISO 45001:2018 Requirements
Next, the course takes a step-by-step look at the relevant clauses in the 45001 standard in order to understand what they mean and what your company needs to do to comply with them.
Documented Information
Clear, well-written, and non-bureaucratic documentation is an important part of an OH&S Management System.

A point worth noting here is that documents are used for storing and sharing information, while records are essentially hard copies of results (such as from an audit) or evidence of activities that have been performed. And while documents get revised from to time and are generally kept up-to-date, records are static and never revised.
Steps for Implementation & Certification
The final part explains how organizations can implement an ISO 45001 OH&S Management System, ensure it complies with the standard's requirements, and achieve certification.
Who Should Take ISO 45001:2018 Foundation Training?
This course is ideal for:
Certificate of Completion
Graduates of this ISO 45001:2018 Foundation Training course receive a Certificate of Completion. The certificate provides evidence of successfully passing the training program.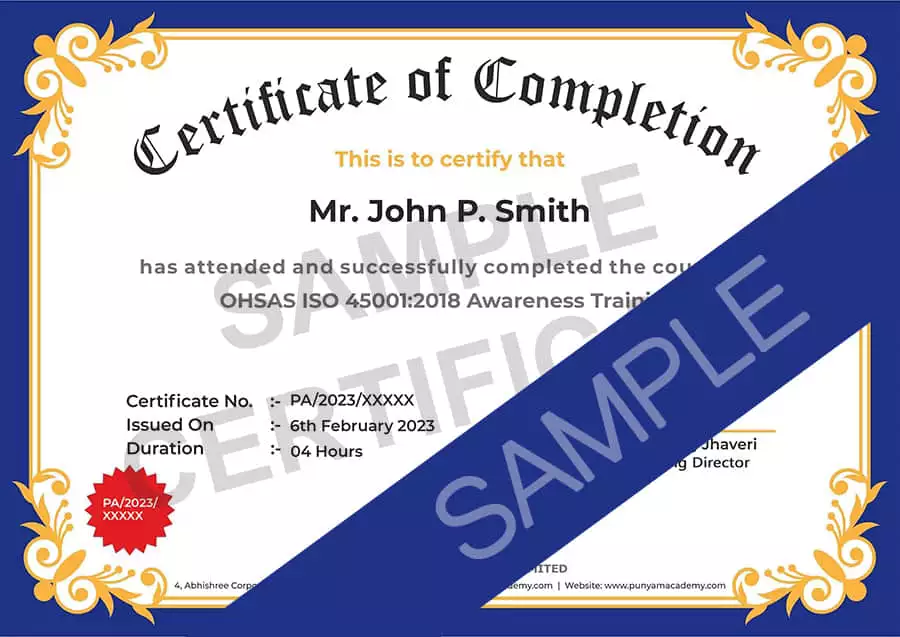 To receive a Certificate of Completion, you need to pass the final exam. It's a multiple-choice assessment with a passing score of 60%. The exam can be re-taken unlimited times without additional charge.