What Is ISO 50001?
Published in 2011 by the International Organization for Standardization (ISO) and revised in 2018, ISO 50001 describes the requirements for implementing, operating, and improving an Energy Management System. It can be used by any organization regardless of type, size, or geographical location.
ISO 50001 uses the same high-level structure found in other ISO management standards and can be implemented alongside them to create an integrated system that optimizes efficiencies and benefits.
According to the ISO Focus Magazine (page 35), early adopters of the standard included:
Automobili Lamborghini, Italy
Bouygues Telecom, France
China Steel Corporation, Taiwan
Delhi International Airport, India
Hyundai Motors, Korea
Pfizer, Ireland
Northern Rail, UK
Tokyo Energy Service, Japan
WEG Equipamentos Elétricos, Brazil
Yokohama Tire Manufacturing, Thailand
Equinix Data Centre, Holland
Pilkington Floatglas AB, Sweden
Lindt & Sprüngli, Germany
Using data published by the US Energy Information Administration, ISO estimated that ISO 50001 could eventually influence up to 60% of the world's energy use.
ISO 50001 Benefits
ISO lists some of the standard's intended aims:
Help organizations make better use of their existing energy-consuming assets and provide a framework for evaluating and prioritizing the adoption of new, energy-efficient technologies
Improve energy efficiency throughout the supply chain
Promote energy management best practices
Initiate projects, policies, and guidelines to reduce greenhouse gas emissions
The British Standards Institution offers useful information about the pros of ISO 50001 and notes that clients who'd implemented the standard typically benefited as follows:
85% comply with regulations
77% reduce costs
46% manage business risk
46% reduce waste defects
ISO 50001 Case Studies
Rather than reel off a list of benefits, we thought it'd be better to look at some ISO 50001 case studies that shed real-world perspectives on how the standard benefits for-profit organizations and public institutions. We'll use a case study of Sheffield Hallam University published by the British Standards Institution, an example taken from the ISO Focus Magazine, and take a look at Google's decision to implement ISO 50001 in 2013.
Heritance Ahungalla Hotel, Sri Lanka
The Heritance Ahungalla Hotel in Sri Lanka (shown below) is one of the country's finest and enjoys a great reputation for its beautiful location, international and traditional cuisine, cleanliness, and friendly guest services. The hotel implemented ISO 50001 just over a decade ago.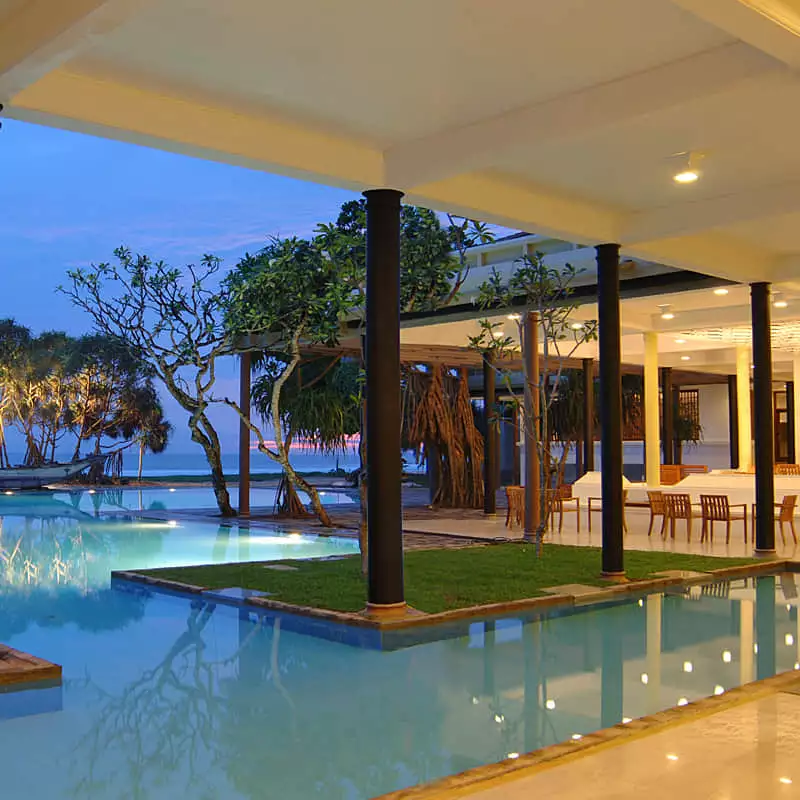 The Heritance Ahungalla Hotel was Sri Lanka's first hotel to set up an ISO 50001 Energy Management System. The decision was taken in order to reduce the hotel's energy consumption, a strategy deemed necessary due to the rising costs and limitations of energy supply in Sri Lanka. Thanks to this decision, the hotel is now able to manage its energy consumption more effectively.
But improved energy management needn't come at the cost of compromising guest comfort. In times of low occupancy, for example, hotel guests are grouped into the same or adjacent sections, meaning that air conditioning can be switched off in unoccupied parts of the hotel.
Other savings initiatives include replacing conventional light bulbs with energy-saving equivalents, operating energy-intensive kitchen equipment during off-peak hours only, regularly cleaning electrical equipment, and setting up a maintenance schedule to ensure improved efficiency.
We achieved a considerable reduction in the energy bill. Reducing operating costs during low occupancy periods also helps the hotel immensely. Also, by regular training and seminars on energy saving we have managed to educate our staff to a level where they are now conscious of energy consumption.
Heritance Ahungalla Hotel, Sri Lanka
Sheffield Hallam University, UK
With an ISO 14001 Environmental Management System already in place, Sheffield Hallam University sought to reap the additional benefits that ISO 50001 brings. Since implementing the standard, the University has reduced its carbon emissions by 11% and experienced total energy savings of £10,000 per month. The university is now recognized as a pioneer in best-practice energy management.
The University kicked off its 50001 project by recruiting a dedicated Energy Carbon Manager and hiring a team of external consultants to perform a gap analysis. The purpose of this analysis was to determine what actions needed to be undertaken in order to comply with ISO 50001 requirements. The university also arranged internal auditor training for its appointed auditors.
Morale was high from the word go. Faculty members responded positively to the project, providing great support, embracing the necessary behavioral changes, and volunteering thoughtful input.
ISO 50001 gives us a robust framework to demonstrate that we can save energy, and therefore money that can be invested in our facilities and teaching, thereby giving students a better learning experience.
Sheffield Hallam University, UK
Google, USA
By 2013 Google had spent over a decade designing and building data centers that use half the energy of a typical data center. The company had also become the world's largest non-utility purchaser of renewable energy. That same year, Google became the USA's first company to achieve multi-site ISO 50001 certification.
When the ISO 50001 standard was published, Google saw it immediately as an opportunity to create a structured Energy Management System (EMS) that could incorporate their existing energy efficiency processes and pave the way to increased cost savings and even better efficiency.
The company developed a lean 50001 system that consolidated the standard's requirements into only five management system procedures. Their internal auditing program is equally streamlined: auditors can continually monitor and assess the effectiveness of the EMS, while always working on ways to make things even more efficient. According to Google, their certification audits have never identified any nonconformities.
As we continue our quest for energy efficiency, ISO 50001 is one of the tools we will continue to use. The initiatives we've implemented to date have saved us a billion dollars.
Google, USA
Conclusion
With rising energy costs and consumption, and the impact that inefficient energy usage has on climate change, it's crucial that organizations improve the way they manage energy, both now and in the future. ISO 50001 enables organizations to do this. Certification to the standard is both a mark of prestige and an indicator of your organization's credibility to customers, employees, and stakeholders