The ISO 9001:2015 Foundation Training course offers a comprehensive introduction to ISO 9001, explaining its requirements and how to achieve certification. The course includes numerous examples and practical tips that your organization can learn from and apply. The course also highlights some of the common mistakes made during implementation.
The course lasts about 3 hours and is aimed at decision makers who require a solid understanding of ISO 9001 but won't be actively involved in its implementation or daily operations. Ideal if your organization is about to set up an ISO 9001 system.
This overview training is online and on-demand. It can be taken anytime and on any device. And in case of corporate purchases, an assigned manager can conveniently check up on learning progress using our online dashboard.
Learning Objectives
On completion of the course you will:
Course Content
The course is interactive and combines lectures, videos, and practical examples.
ISO 9001: The Basics
This part teaches ISO 9001 fundamentals such as how organizations use the standard, and what the standard means for you and your organization. The lessons conclude with a look at some of the factors that contribute to ISO 9001 success.
The Pros and Cons of ISO 9001
Next, the course examines the internal and external benefits that companies typically gain after implementing an ISO 9001 Quality Management System. Potential downsides and pitfalls are discussed, along with strategies to mitigate them and strategies for success.
Overview of ISO 9001:2015 Requirements
This part looks at the pertinent ISO 9001 clauses, 4 thru 10, that everyone involved in the implementation project will need to be familiar with.
Implementation Overview
The last part introduces a popular five-step implementation methodology that's been proven to work and is accessible even to complete beginners. The lessons end with useful tips for getting the most out of ISO 9001.
Who Should Take ISO 9001:2015 Foundation Training?
This online course is ideal for:
Course Certificate
Graduates of this ISO 9001:2015 Foundation Training course receive a Certificate of Attainment. The certificate serves as evidence of your newly acquired competencies.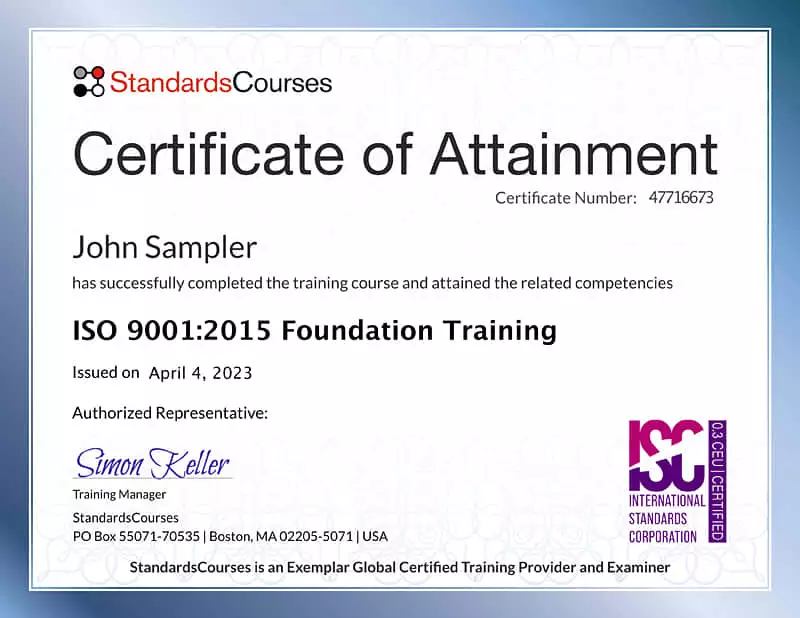 To receive a Certificate of Attainment, you need to pass the final exam. It's a multiple-choice assessment with a passing score of 70%. The exam can be re-taken unlimited times without charge. If you fail or forgo the exam, you'll still receive a Certificate of Attendance that provides evidence of training.