The ISO 27001:2022 Auditor Training course gives you the skill set needed to take part in the internal audit program at your company.
The course will ensure that you thoroughly understand your role as an auditor and have the expertise needed to conduct effective audits, identify and report non-conformances, and complete follow-up activities. The course will also explain risk management techniques, implementation steps, and how to prepare for the certification audit.
The ISO 27001 course includes an examination. Upon successful completion, graduates have the option to seek registration as an Exemplar Global Certified Information Security Management System (ISO 27001) Auditor.
ISO 27001 internal auditor training and exam are online and on-demand. Both can be taken anytime and on any device.
Learning Objectives
On completion of the course you will:
Course Content
The online course is interactive and combines lectures with presentations and practical examples. More than 150 pages of PDF handouts are provided, which learners are encouraged to retain and refer back to.
The course also provides a free Audit Checklist. It contains more than 400 audit questions and can be used as a valuable tool when conducting internal audits.
Overview of ISO 27001:2022
This first part introduces ISO 27001, explaining what it is, how it's used, and the purpose and benefits of an Information Security Management System (ISMS).
Requirements of an ISMS
This module takes a step-by-step look at the relevant clauses in the ISO 27001:2022 standard in order to understand what they mean and what your company needs to do to comply with them.
ISO 27001:2022 Control Objectives and Controls
There are 93 controls in ISO 27001:2022, 11 of which were introduced as part of the 2022 revision.

The controls are grouped into 4 categories and include considerations such as threat intelligence, information deletion, web filtering, secure coding, and data leakage prevention.
Documented Information
Clear, well-written, and non-bureaucratic documentation is an important part of an ISO 27001 ISMS.

A point worth noting here is that documents are used for storing and sharing information, while records are essentially hard copies of results (such as from an audit) or evidence of activities that have been performed. And while documents get revised from to time and are generally kept up-to-date, records are static and never revised.
Risk Management
Assessing and managing risk forms a core part of ISO 27001. The process involves identifying potential sources of risk, such as vulnerabilities that a cyber criminal could exploit or errors that employees might make.

The next step is to determine the likelihood of the risk occurring and to formulate a plan either to prevent the risk from happening or control and mitigate any damage if it does occur.
Internal Auditing
This part introduces auditing techniques, including the fundamentals (audit methodologies), and the roles and responsibilities expected from a company's internal auditor.
Audit Records
Audit proceedings and findings must be documented according to ISO's specific requirements. The reports you compile (which show nonconformities and the corrective actions taken to address them) must be retained as they will be reviewed during the certification audit and subsequent surveillance audits. Points covered in this module include:
ISMS Terms and Definitions
This module teaches a glossary of terms and definitions that apply to ISO 27001 and Information Security Management Systems.
Implementation and Certification
This final part examines the steps necessary to implement an effective ISO 27001 ISMS and achieve certification.
Who Should Take ISO 27001:2022 Auditor Training?
This course is ideal for:
Certificate of Completion
Graduates of this ISO 27001:2022 Auditor Training course receive a Certificate of Completion with the Exemplar Global accreditation mark. The certificate provides evidence of successfully passing the training program.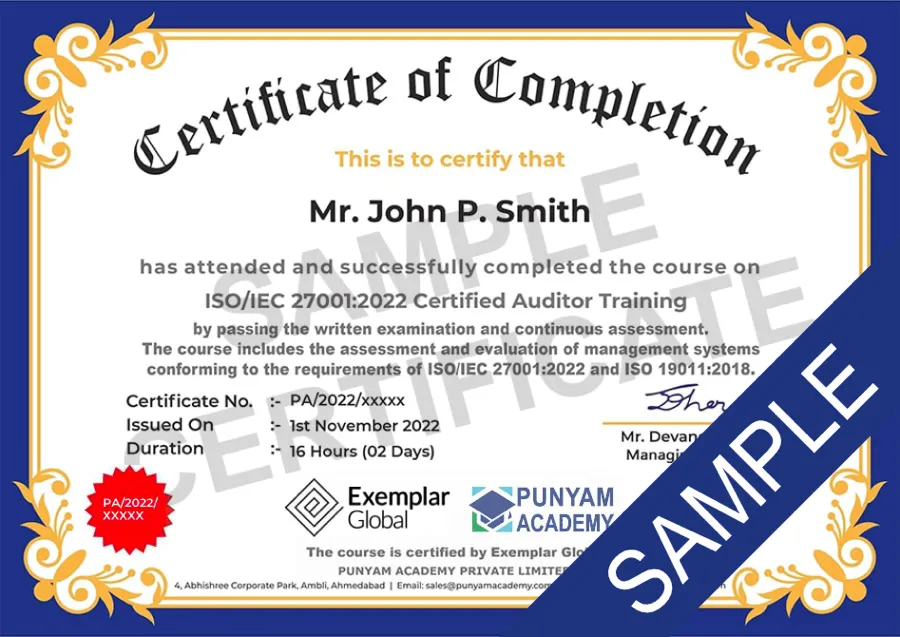 To receive a Certificate of Completion, you need to pass the final exam. It's a multiple-choice assessment with a passing score of 60%. The exam can be re-taken unlimited times without additional charge.